Blastomet - AL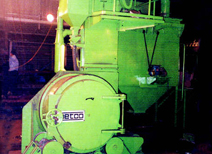 Airless Shot Blasting Machine
Blastomet - AL brand Airless Shot Blasting Machine works on the principle of centrifugal blasting. The machine is utilized to clean the surfaces after heat treatment and/or as a preparatory operation prior to surface finishing treatment. The cleaning operation is carried out by removing scales, contaminants through blasting/throwing of clean abrasive from a Blasting Rotor Wheel Unit at controlled flow rate on the exposed surfaces of work pieces. The spent shots draining out from the bottom of the closed chamber are recovered/reclaimed
for re-use by an Abrasive Recovery System through an Elevator in conjunction with a separator. The dust laden air along with particles lighter in weight and smaller in size than the shots is sucked out from the chamber barrel, elevator and separated by a Dust Collecting System through Bag Filters with Shaker mechanism and Blower Unit. The dust free air is finally discharged to atmosphere through exhaust pipe and dust collected into the hopper below. Blasting operation stops automatically after completion of a pre-determined/pre-set time when the finished work pieces are removed from within the chamber and the cycle is repeated for next batch. The quality level of the work pieces are checked from time to time and the timer is set accordingly to achieve the desired quality level of blasting.
An Electric Control panel-cum-control desk with necessary protection for safety, interlocking etc is provided for satisfactory operation of the equipment.
Installed at:
Gun & Shell Factory, Cossipore, Kolkata.
To enquire on this product please
click here.
METAL ENGINEERING & TREATMENT CO. PVT. LTD.
Hot Line
+91 33645626