Engineering Equipment
METCO has developed equipment for various core sectors. Every Stage of the development process starting from basic engineering and detailed drawing upto shop testing are done in house under supervision of qualified engineers.
The organization processes two large workshops - Unit I caters for structural fabrication and heavy equipment/machinery assembly. Unit II caters for manufacture, assembly and testing of standard as well as special types of machineries/equipment eg. various electromechanical equipment. Additionally, manufacturing and testing facilities are also availed from the other small/medium size equipped units possessed by the associates of METCO Industries.
MATERIAL HANDLING EQUIPMENT
Electrically operated Railway Traverser, Transfer Cars with or without tilter, high lift electromechanical Synchronous Jack, multipurpose Power Winch, Haulage System, Push Bar Conveyor, Trestle Conveyor, Jib Crane, Wagon Spotter etc.
CONSTRUCTION EQUIPMENT
Self erecting Piling Rigs with or without augering and under reaming arrangement, Earth cutting & dredging Grabs, heavy duty bridge Erection Crane, Launching Girders etc.
PROCESS EQUIPMENT
Briquetting Plant, Lime solution preparation Plant, Motor mixing Plant, Sand/Shot/Grit Blasting, Chock & Bearing Cleaning Machine and various types of Conveyors and Auxiliary Equipment for Steel Plants e.g.
Shearing machine,
Charge Chrome Plants & Defence Units.
HEAVY FABRICATION
METCO Industries has the necessary setup and expertise for heavy fabrication and machining jobs. It has developed a qualified team experienced in manufacturing techniques and modern welding methods. All fabrication processes are carried out according to latest Indian & International codes of practice. METCO Industries has experience in the design, fabrication and erection of Heavy Technological Structure eg. Hydraulic Gates, Hoists, self Supporting Towers & Masts, Steel Bridge,
Roller Segments of Briquetting Plants
,
Moulds & Segments for Continuous Slab/Bloom Casting Plants,
Mudguns for closing of furnace hole tapping, etc.
NEW TECHNOLOGY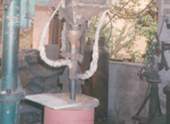 Plasma:
We are also venturing into this field of physics and engineering. We have developed a couple of custom built Plasma Reactors for "Institute of Advanced Material Research Laboratory, Bhubaneswar" and Plasma Power Source. As a result we have developed the technology related to this process and are looking ahead to make further forays into this field of technology in the coming future.
CLIENTS
METCO Industries has clients around the world. For more details,
click here.
REGISTRATION
METCO Industries is an SSI unit registered under the Directorate Of Industries, Government of West Bengal. For more details,
click here.
TIE-UPS
METCO Industries has tie-ups around the world. For more details,
click here.