Spemet - CBC 500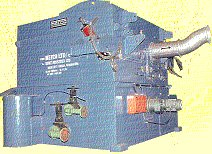 Chock and Bearing cleaning Machine
Chock and Bearing cleaning machine of maximum capacity 5 tons is one of the unique machines developed by METCO Industries. The purpose of this machine is cleaning of the rolling mills Chock and Bearing by spraying hot water mixed with air through nozzles in a closed chamber where the job is placed on a rotating table.
To enquire on this product please
click here.
METAL ENGINEERING & TREATMENT CO. PVT. LTD.
Hot Line
+91 33645626