Lemet EJ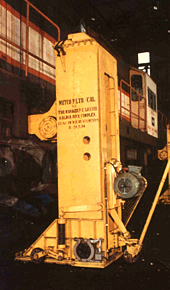 ELECTRO-MECHANICAL SYNCHRONOUS SCREW JACK
Lemet-EJ is one of the most dependable and trouble free electro-mechanical lifting jacks used widely in Railways and other Industries. These are basically utilized for lifting coaches, wagons and locomotives of all types inside the Railways workshops for maintenance and other purposes. Due to its mobility the same set of jacks can be used at various locations inside the Workshops.
Installed at:
Railway Workshops at Abu-Rd, Bulsar, Bandra, Chittorgarh, Gandhidham, Hapa, ICF, Kapurthala, Kota, Raynapadu, Rannavao, Sabarmati, Vatva. Steel Plants (Loco Maintenance Shop) at ASP, BSP, RSP, TISCO, VSP, Thermal Power Plants at NTPC, UPSEB, MSEB, BHEL, PORT TRUSTS at MPT, CPT.
To enquire on this product please
click here.
METAL ENGINEERING & TREATMENT CO. PVT. LTD.
Hot Line
+91 33645626