Blastomet - AR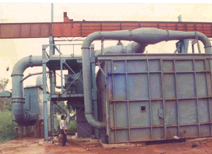 Chamber Type Shot / Sand /
Grit Blasting Machine
Blastomet-AR brand compressed air operated Portable/Cabinet/Chamber type Sand/Shot/Grit Blasting Machine is an unique machine for cleaning of small/medium/big sized components with intricate shapes. This machine is very suitable for blast cleaning, de-burring, peening/polishing, etching etc. of small/big sized Component of steel casting/forging. Steel structures, bridges, tanks, ship's hulls etc. are very efficiently cleaned by this machine. This machine is fabricated from mild steel and special steel components.
Inside of the shot blast cabinet chamber is rubber lined, vision window, doors (front & side), lights, ventilators are part of the chamber.
Air requirement and working air pressure varies depending on the nature of job and production requirement.
An Electric Control panel-cum-control desk with necessary protection for safety, interlocking etc is provided for satisfactory operation of the equipment.
Installed at:
CLW / Chittaranjan, S. Rly/ Arakonam, TATA Growth Shop/ Jamshedpur, MSF/Ishapore, ABB-ABL Ltd/Durgapur.
To enquire on this product please
click here.
METAL ENGINEERING & TREATMENT CO. PVT. LTD.
Hot Line
+91 33645626