Spemet-BR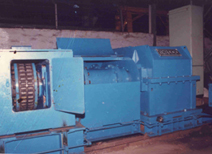 10 t Capacity Briquetting Machine
Spemet BR, manufactured by METCO Industries is special purpose equipment, which is essentially used for compacting and briquetting cake from fines which require high pressure for agglomeration. The fine material is either fed by gravity or predensified by a screw feeding arrangement & is subsequently compacted in the gap of two counter rotating grooved rolls of the briquetting machine. Materials can be processed continuously. The heavy & robust construction of the machine ensures continuous smooth operation & low maintenance.
Installed at:
Briquetting Machine and/or Segmental Rolls for imported machines at FACOR/RANDIA, FACOR/Garividi, ICCL/Choudwar, SIIL/ Khammam, GSAL/Vizianagaram, OSIL/Palaspanga, VBC Ferro Alloys Ltd/ Hyderabad, IMFA/Therbali, CIAL/Durgapur.
To enquire on this product please
click here.
METAL ENGINEERING & TREATMENT CO. PVT. LTD.
Hot Line
+91 33645626