Transomet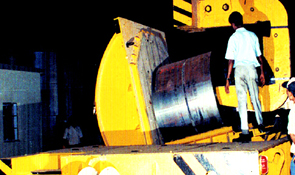 30t Cap TRANSFER CAR WITH TILTER at TINPLATE, Jamshedpur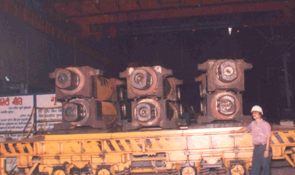 150t Cap ROLL TRANSFER TROLLEY at HSM, TATA STEEL, Jamshedpur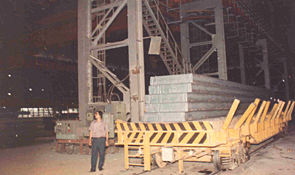 150t Cap SLAB TRANSFER CAR at HSM, TATA STEEL, Jamshedpur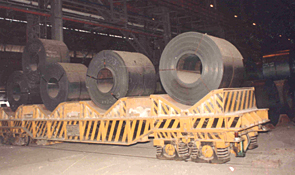 110t Cap COIL TRANSFER CAR at HSM, TATA STEEL, Jamshedpur
METCO Industries has developed many tailor made equipment for core sectors through its long years of work backed by constant upgrading of technology through interaction with end-user. Transfer car/trolley is one of those unique equipment successfully developed through the years by METCO Industries. This equipment are working efficiently for more than two decades in various industrial plants. The purpose of this equipment is interbay transferring of different items or otherwise inside the plant generally in places where the overhead cranes can not be utilized or are kept free to do other jobs. Transomet is the brand name of transfer cars/trolleys moving on rails designed and manufactured by METCO Industries to suit various requirements. Transomet is either self driven type (called transfer cars) or winch driven type (called transfer trolleys).
Installed at:
Steel Plants at BSL, Bokaro, ASP/Durgapur, RINL/Vishakapatnam, TISCO/Jamshedpur, IISCO/Burnpur, Salem/Tamilnadu, MDNL/Hyderabad, NFC/Hyderabad. Ordnance Fatories at Muradnagar, Medak, Avadi, Kanpur, Dumdum, Ishapore. Other Plants at TCIL/Jamshedpur, HDC/Dankuni, CCAP/Cal, Facor/Randia, IPL/Calcutta.
To enquire on this product please
click here.
METAL ENGINEERING & TREATMENT CO. PVT. LTD.
Hot Line
+91 33645626