Briquetting Plant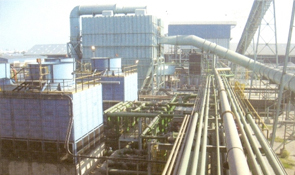 100 t/hr. Capacity Briquetting Plant
Birds eye View of Briquetting Plant
Chrome ore fines are converted in Briquettes for charging into furnace during the process of manufacturing Ferro Chrome. Briquettes are made in the Briquetting Press mixing the Chrome ore with suitable binder and lime powder so that optimum and efficient use of the Furnace capacity can be achieved. METCO industries manufacture the Briquetting Plant in totality including the Briquetting Press and Muller Mixer. The other metallic ores can also be Briquetted applying the same principle.
Equipment Description
Chrome ore fines from RM storage shed is fed into the Ground Hopper by Pay Loader. 1 no. Vibrating Feeder with Slide Gate is used below the Ground Hopper for smooth flowing of the material. Then the material goes to the Double Deck Vibrating Screen thru' a Belt Conveyor. The Over size Material after screening is deposited in a separate space by a Discharge Chute and the desired size material goes to the Dryer after weighing by Weigh Feeder. The wet material is dried and the moisture comes down below 2%. Then the dry material is stored in a Silo through a belt Conveyor and the Bucket Elevator. In the Lime section, the lime is stored in a silo through another belt Conveyor and the Bucket Elevator. The lime and chrome fines are fed into a common conveyor and the mixed material are put into the Muller Mixer through a Bucket Elevator. The Molasses which comes from Agitator Tank and Water Molasses Mixed Tank are also put into the same Muller Mixer. The Molasses and water are used as binder. A muller wheel is used for mixing the material in the Muller Mixer and the mixed material are put into the Briquetting Press through a gravity chute where the briquettes forms and the same goes to the Vibrating Screen for Screening. The desired size briquettes are stored in the finished product yard by using a Tripper type Stack and the under sized materials are recycled through a Belt Conveyor.
Installed at:
Utkal Manufacturing and Services Ltd /Cuttack, VISA Steel Ltd /Jajpur, Adhunik Metaliks Ltd /Rourkela, Tata Steel KZN (Pty) Ltd /South Africa.
To enquire on this product please
click here.
METAL ENGINEERING & TREATMENT CO. PVT. LTD.
Hot Line
+91 33645626