Electroslag Remelting Process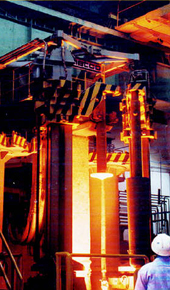 10 t Capacity Electroslag
Remelting Plant (ESR)
The Electro Slag Remelting (ESR) is a secondary clean steel preparation process which involves remelting of steel in the form of consumable electrodes for refining of the metal using electrically conductive molten slag (of appropriate composition) in a water cooled Copper Mould. The process involves resistance heating (not by arc). The molten slag pool is maintained in the copper mould by flow of alternating current for generation of heat. The electric current passes between the electrode and the conducting copper base plate, provided at the bottom of the mould, through the slag bath which provides the resistive element in the circuit. As slag temperature rises above the melting temperature of the metal (of the consumable electrode), the tip of the electrode melts by droplets which are progressively detached from the electrode tip and pass through the slag (where they get refined). These droplets are accumulated in a metal pool inside the mould above the base plate.
The controlled cooling & solidification operation, which is equally important for ESR process, takes place progressively and the ingot is gradually formed as heat is removed from the metal pool via the water cooled base plate and the walls of the mould.
By controlling the melting power, melt rate and also the cooling / solidification rate, it is ensured that an ingot structure is established which comes very close to providing the ideal structure which has been the goal of metallurgists for a long time; the properties thus achieved in the ingot are superior in many respects to the conventionally produced metal, particularly important being the reproducibility of very high quality products.
There are various methods for production of ingot, e.g.
Stationary full mould method
Short collar mould with

Bottom plate stationary & mould gradually lifting,
Bottom plate withdrawal with single electrode or with multi electrode change system.
PROCESS / PLANT REQUIREMENTS
Electrode Preparation System
Flux /Slag Preparation System
ESR Furnace Proper
Post ESR Ingot Heat Treatment
Utility Services, Electrics & Electronics, Computer & Automation, Instrumentation
OUR SUPPLIES OF ESR PLANTS IN INDIA
1000kg capacity ESR unit for Defence Metallurgical Research Laboratory, Hyderabad.
10,000kg capacity ESR plant for Metal & Steel Factory, Ishapore, West Bengal under the Indian Ordnance Factory Board, Ministry of Defence, Govt. of India.
IN INDIA, METCO Industries HAS THE EXCLUSIVE TIE-UP WITH FOREIGN ESR SPECIALIST ORGANISATION AND POSSESSES THE CAPABILITY TO DESIGN, SUPPLY & INSTAL TAILOR MADE ESR PLANTS AND EQUIPMENT TO SUIT ALL TYPES OF CUSTOMERS' REQUIREMENTS VIZ. TYPE OF STEEL GRADE, PRODUCTION CAPACITY, INGOT SIZES ETC. ETC.
To enquire on this product please
click here.
METAL ENGINEERING & TREATMENT CO. PVT. LTD.
Hot Line
+91 33645626