Gland Type Elastomeric Slab Seal Joint
Metco Industries Brand Gland Type Elastomeric Slab Seal Expansion Joint has been introduced in India recently by METCO. This joint is a combination of the advantages of Elastorneric Slab Seal joint and Strip seal joint making it an ideal State-of-the-art joint to meet' all the functional requirement of a deck joint for the bridges.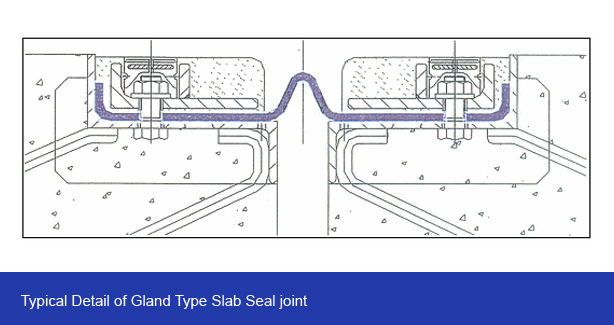 Gland Type Slab Seal Expansion Joint is not only suitable for new installations but also for replacement of joints distressed due to unforeseen externally induced movements and rotations caused by tilting and shifting of substructure and support movements. It also provides ideal solution to the problems relating to deck movement.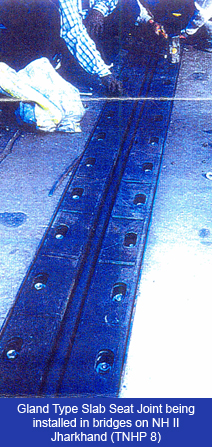 Like strip seal joint it allows movements in all 3 directions and rotation about all 3 axes. The maximum width of gap the tyre of standard vehicle can cross smoothly without any hazard and much impact load on the joint component and structure is 80mm. This world wide recognised fact is considered for design of Gland Type Slab Seal Expansion Joint. The pad nose, that will receive the traffic impact, is made of solid rubber to avoid the possibility of any damage due to fatigue under impact loading and thereby makes the joint noiseless due to the cushioning effect of the thick elastomer. The continuous rubber strip provided below the pads is extremely flexible and can be squeezed/ stretched as necessary to suite site condition and thus the joint imparts negligible stress to the structure during its entire service life. The continuous rubber seal also makes the joint 100% watertight. The special inverted 'V' formation of the rubber seal improves self-cleaning property and eliminates chances of debris accumulation in the gap. Chances of blocking of open surface gap by entrapped stones or hard pieces that may generate locked-in condition restraining free movement of structure is eliminated due to improved self cleaning property and the flexible solid rubber nosing of the pads.
To enquire on this product please
click here.
METAL ENGINEERING & TREATMENT CO. PVT. LTD.
Hot Line
+91 33645626