Elastomet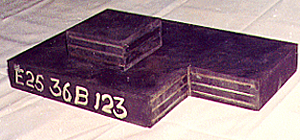 Elastomeric Rubber Bearing
METCO Industries introduced fully moulded reinforced elastomeric bearing for bridges in India under the brand name of 'Elastomet', manufactured from imported chloroprene rubber (e.g. Neoprene WRT of Du Pont, Bayprene110 of Bayers etc.). Elastomet bearings are manufactured through controlled quality procedures and conform to IRC 83 (part III), 1987 MORT&H's specifications and other international codes
/ specifications. The following types of ' Elastomet' bearings are available for different applications :
Normal bearing pads - reinforced / unreinforced.
Bearings with positive metallic attachments or dowel pins and dowel caps for anchoring and stabilising high horizontal force.
Vertical stopper bearings with attachments.
Selastomet - Bearings with sliding component consisting of PTFE to stainless Steel or stainless steel to stainles steel interface.
Elastomeric bearings with Seismic Restraincrs.
For more details,
click here.
METAL ENGINEERING & TREATMENT CO. PVT. LTD.
Hot Line
+91 33645626